Marko N. Tomov, M.D.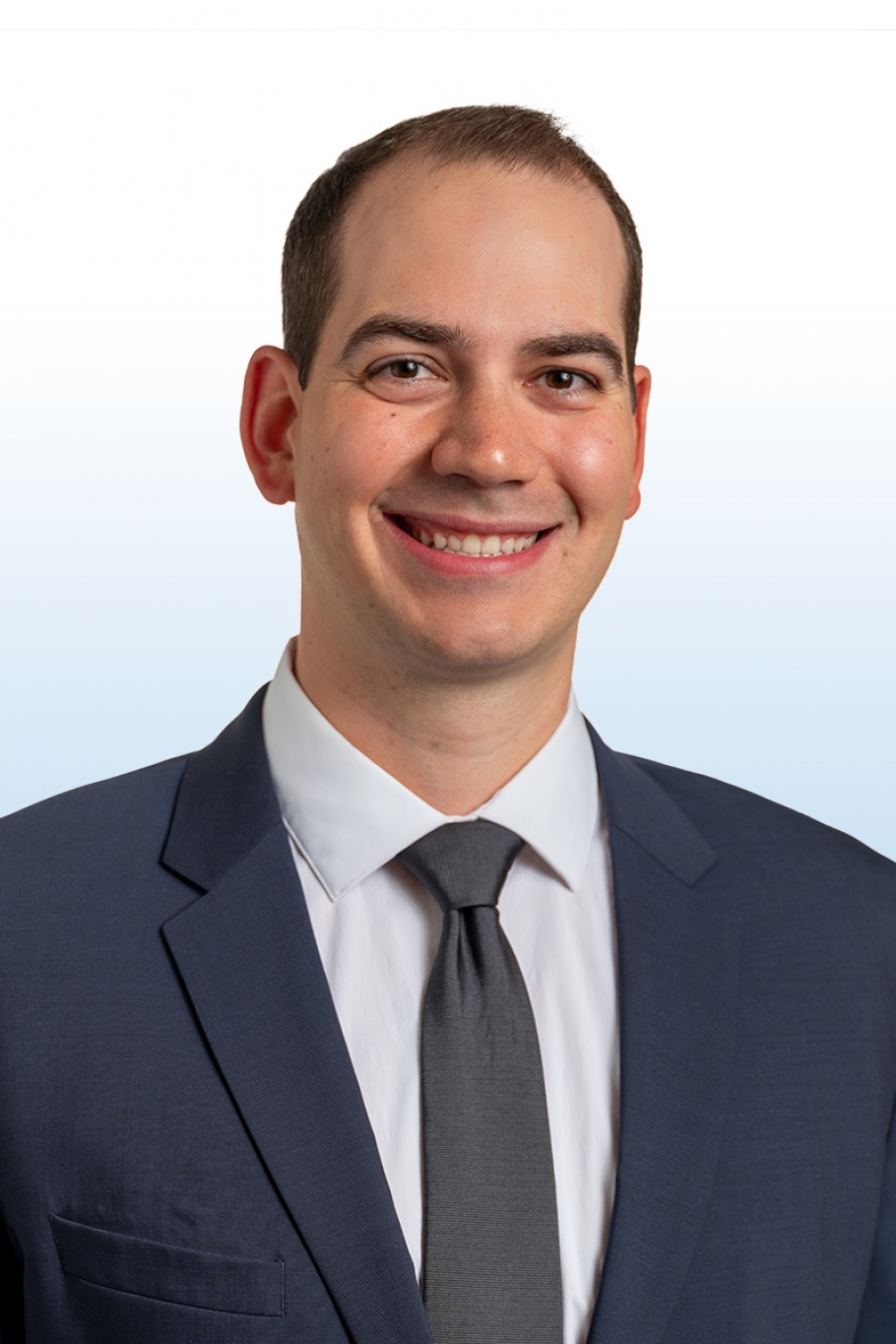 Dr. Marko Tomov is an orthopaedic surgeon, fellowship trained in spine surgery. He specializes in adult degenerative, deformity, and trauma-related conditions of the cervical, thoracic, and lumbar spine. In collaboration with the patient, he takes an individualized approach to management of spine pathology. The breadth of surgical techniques offered include minimally invasive lumbar discectomies and decompressions, minimally invasive transforaminal lumbar interbody fusion (midLIF), minimally invasive sacroiliac (SI) joint fusion, a combination of anterior and posterior lumbar fusions in both the primary and revision setting, anterior cervical discectomy and fusion (ACDF), posterior cervical decompression and fusion (PCDF), as well as motion sparing techniques such as anterior cervical disc arthroplasty and posterior cervical laminoplasty. 
Dr. Tomov joined the Northwest Orthopaedic Specialists team in 2022.
After completing his Bachelor of Science degree in Biomedical Engineering at the University of California, Irvine, Dr. Tomov went on to obtain his medical degree from the University of California, Davis. He then completed his residency training in orthopedic surgery at Mayo Clinic in Rochester, Minnesota. Following his residency, Dr. Tomov completed a Spine Surgery Fellowship at Norton Leatherman in Louisville, Kentucky.
Outside of his surgical practice, Dr. Tomov spends quality time with his family and friends, aiming to take advantage of the beautiful outdoors. Some of his favorite activities are snowboarding, hiking, and most recently, pizza-making.
Qualifications
Undergraduate
University of California Irvine, Irvine, CA 2006-2010
Medical School
University of California Davis, Davis, CA 2012-2016
Residency
Orthopaedic Surgery, Mayo Clinic, Rochester, MN 2016-2021
Fellowship
Spine Surgery, Norton Leatherman, Louisville, KY 2021-2022
Hospital & Surgery Center Affiliations
MultiCare Deaconess Hospital
MultiCare Valley Hospital
Providence Sacred Heart Medical Center
Providence Holy Family Hospital
The Orthopaedic Surgery Center
Medical Interests
Degenerative Spine
Spine Deformity
Spine Trauma
Minimally Invasive and Navigated Surgical Techniques
Anterior Cervical Discectomy and Fusion (ACDF)
Cervical Artificial Disc Replacement
Posterior Cervical Laminoplasty
Posterior Cervical Decompression and Fusion (PCDF)
ALIF (Anterior Lumbar Interbody Fusion)
OLIF (Oblique Lumbar Interbody Fusion)
midLIF (Midline Lumbar Interbody Fusion)
TLIF (Transforaminal Lumbar Interbody Fusion)
Minimally Invasive Lumbar Discectomies and Decompressions
Sacroiliac (SI) Joint Fusion
Publications
Tomov M., Mitsunaga L., Durbin-Johnson B., Nallur D., Roberto R. Reducing Surgical Site Infection in Spinal Surgery with Betadine Irrigation and Intra-Wound Vancomycin Powder. Spine. April 1st, 2015; 40(7): 491-9.
Tomov M., Tou K., Winkel R., Puffer R., Bydon M., Nassr A., Huddleston P., Currier B., Yaszemski M., Freedman B. Does subcutaneous infiltration of liposomal bupivacaine following single-level transforaminal lumbar interbody fusion surgery improve immediate postoperative pain control? Asian Spine Journal. February 7th, 2018; 12(1): 85-93.
Wanderman N., Drayer N., Tomov M., Reifsnyder J., Carlson B., Robinson W., Kang D., Freedman B. Postoperative seroma formation after posterior cervical fusion with use of RhBMP-2: A report of two cases. Journal of Bone and Joint Surgery Case Connector. July-September 2018; 8(3): e74.
Tomov M., Wanderman N., Berbari E., Currier B., Yaszemski M., Nassr A., Huddleston P., Bydon M., Freedman B. An empiric analysis of 5 counter measures against surgical site infections following spine surgery – a pragmatic approach and review of the literature. The Spine Journal. February 2019; 19(2): 267-275.
Tomov M., Alvi M., Elminawy M., Currier B., Yaszemski M., Nassr A., Huddleston P., Sebastian A., Bydon M., Freedman B. An objective and reliable method for identifying sarcopenia in lumbar spine surgery patients using morphometric measurements on computed tomography (CT) imaging. Asian Spine Journal. Dec 2020;14(6):814-820.
Kolz J., Alvi M., Bhatti A., Tomov M., Bydon M., Sebastian A., Nassr A., Fogelson J., Currier B., Freedman B. Anterior cervical osteophyte resection for treatment of dysphagia. Global Spine Journal. May 2021;11(4):488-499.
Thompson JC., Pinter ZW., Honig R., Tomov M., Currier BL., Elder BD., Freedman BA., Bydon M., Sebastian AS. Methods Used to Generate Consensus Statements for Clinical Practice Guidelines: A Primer for the Spine Surgeon. Clinical Spine Surgery. Dec 1st, 2021; 34(10):391-394.
Shuler M., Roskosky M., Tomov M., Freedman B. Compartment Syndromes. Published in Skeletal Trauma 6th Edition.
Schmidt GO, Glassman SD, Tomov M, Dimar JR, Crawford CH, Carreon LY. Comparison of revision surgery for pseudarthrosis with or without adjacent segment disease after anterior cervical discectomy and fusion. N Am Spine Soc J. 2023 Apr 25;14:100223.
Cross WW 3rd, Tomov MN, Hung MY, Muir JM. Patient-Reported Outcomes and Computed Tomography Review After Minimally Invasive Fusion of the Sacroiliac Joint With Aggressive Joint Decortication and Joint Compression. Orthopedics. 2023 Sep 6:1-7.